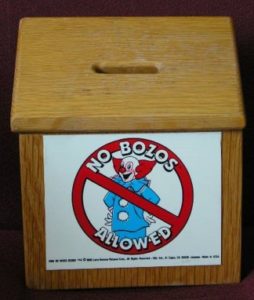 I suddenly remembered the Bozo Box!
Let me explain. Last week, the Portfolio and Project Leaders' Forum hosted Dorota Shortell, CEO of Simplexity Product Development. She spoke about how she built a company culture that enables excellent project work. She referred to herself as a "culture evangelist." That grabbed my attention. I believe that a culture that values people is a crucial element in a high-performing organization.
That's where the Bozo Box comes in. Years ago, I worked for an entrepreneurial company that believed very strongly that respect was good business. The company placed "Bozo Boxes" on the wall of every conference room. The picture shows an actual Bozo Box (thanks, Glenn). Every time an employee slipped and said something disrespectful about a colleague, supplier, customer, or even a competitor, the offender would walk up to the Bozo Box in front of everyone else in the meeting and deposit a quarter. Everyone from the CEO to secretary did this, reinforcing how important it was to demonstrate respect. Did it make a difference? Even though this was over a decade ago, recently a former customer wrote "I can honestly say that dealing with <company> was a breath of fresh air. I had worked with a few other large corps and found them hard going … Sadly, to many organisations the customer is an interruption to the work and not the purpose of it. Well done guys."
Culture counts.