The Portfolio Management Roundtable
Advancing the Practice of Project Portfolio Management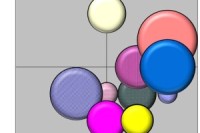 The Roundtable is a group of practitioners who share common problems and solutions in project portfolio management (PPM) and governance. Members either are currently implementing portfolio management techniques in their organization or are seriously investigating them. The Roundtable is a forum for confidential and open discussion. Current members are from product development, IT, governmental, and not-for-profit organizations.
Meetings and Resources
Roundtable meetings include a guest speaker or a discussion of current portfolio management topics. They are held quarterly in downtown Portland, Oregon from 7:45 to 9:00 AM on the second Thursday of February, May, August, and November. The total attendance is limited to keep the group is small and interactive. If space is available, guests are welcome when sponsored by a Roundtable member. Membership is limited to practitioners. Contact the Roundtable moderator, Jeff Oltmann, for more information.
The Roundtable was founded by Jeff Oltmann in 2004. it is sponsored by Oregon Health and Science University and by Synergy Professional Services.
Past Speakers and Topics
Managing Organizational Change by Denise Hoover, Service Line Director, Orthopedics, Neuroscience, & Rehabilitation at Salem Health
Enterprise Governance in Oregon and how PPM pulls it all together by Julie Pearson-Ruthven, Director of the Strategic Technology Office of the State of Oregon
Driving Adoption of Your PPM System by Ron Sklaver, Enterprise Portfolio Manager, EY
Demonstrating Flexibility: Cambia Health Solutions Moves from an EPMO to a Project Results Office, by Jeff Markle, Cambia Health Solutions
Creation of an International PMO at SolarWorld, by Scott Haight, Planning & Investment Manager / PMO, Solarworld Industries of America
How Uncertainty Destroys PPM Best Practices by Dr. Gary Summers
How BPA Manages Its Portfolio of Innovation Projects by Sheila Bennett, Portfolio Manager, Technology Innovation Office at Bonneville Power
How Providence Health & Services Aligns Projects to Strategic Objectives by Robert Tresente, Project Portfolio Director
PGE's Enterprise Portfolio Management Initiative, Melissa Swenson and Kristine Koneck, PGE
Portfolio Management for Innovation at the Intel Digital Healthcare Group by Farzin Guilak, Intel
PGE Project Portfolio Management Year 1 – Pilot Results" by Kristine Koneck and Jana Quinlan, PGE
Nike's Journey from a Centralized to Decentralized PMO by Nita Huque, Nike
Building a World Class Portfolio Management Process by Maureen Weverka, Mutual of Omaha
Uncertainty in the PPM Process by Dr. Gary Summers
Oracle Tax and Utilities Product Development - Program Management Toolsby Matt Taylor
Portfolio Management and Governance at AutoZone by Mark Rabinowitz
Dan Bauer and Emily Rice, City of Portland, on their experiences introducing portfolio management into a complex organization with functional silos.
Beth Britt, SVP of UMT's West Coast region.
Sam Phenix, site manager of Barco's Portland operations, on how she uses portfolio management techniques to promote innovation.
Dr. Gary Summers presented the latest updates on how Heiner's theory of decision-making affects portfolio management.
Michael Moore, PMO Director, Northwest Evaluation Association, presented a case study of NWEA's foray into a governance framework.
Keith Bearden, president of Virtual Information Executives, reviewed some foundational tips of portfolio governance, then walked through a case study of a company implementing portfolio management.
Shelly Gaddie, President of ProjectCorps, with case studies of three companies that have successfully introduced project portfolio management and continue to realize significant enterprise wide benefits from it.
Dave Weber, CIO of Northwest Natural about NWN's portfolio management approach, which emphasizes transparency, simplicity, informality, and (internal) customer-orientation.
Jo Ann Long, Senior VP and Head of Enterprise PMO, Regence Blue Cross Blue Shield about the recent transformation to enterprise portfolio and project management at Regence.
Kathleen Paul and Evelyn Bian, Port of Portland Business Services Management, about their on-the-front-lines experiences implementing enterprise portfolio management at the Port.
John May, CIO of Digimarc, on his experiences with implementing PPM at 3 different companies.
Contact Information
Jeff Oltmann, facilitator
Synergy Professional Services
(503) 644-6433
Email: